A fire broke out late Monday night at Suffolk Downs in East Boston, drawing a large response from firefighters.
Smoke and flames could be seen pouring from the roof of the building late into the night. The Boston Fire Department commissioner said there were no injuries reported, and the cause of the blaze is under investigation.
The Boston Fire Department received the call around 10 p.m. and encountered heavy smoke on the top floors, which is the simulcast area of the former race track.
All fire crews were ordered off of the roof, and companies were using the tower and multiple ladder pipes to attack the fire from above, the Boston Fire Department said as it battled the blaze.
Due to the limited water supply in the area, fire crews were relay pumping to supply water to the flames and they had to run thousands of feet of lines.
The commissioner said the fire department also deployed its drone to help fight the blaze, and pictures posted online showed the fire from above, as well as thermal imaging of the fire, which helps isolate it.
Commissioner John Dempsey was checking the drone footage as fire crews continued to work to extinguish the flames two hours after they first broke out.
As of 1 a.m. Tuesday, Dempsey said the fire was under control, and crews were chasing hot spots. Security was also on scene.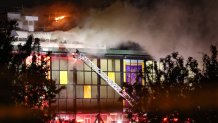 The local landmark has not seen live horse racing in three years, but it still simulcasts races. The racing venue tweeted earlier Monday that it would be simulcasting "holiday racing from coast to coast!"
The former race track holds a special place in the hearts of many people in the area.
Officials had just broken ground days ago on the vast property's redevelopment project that is supposed to take eight years to complete, according to The Revere Journal — a far cry from the 62 days it took to build the track in 1935.
Suffolk Downs' massive redevelopment was approved by Boston's planning agency in 2020. The plans call for a mixed-use neighborhood with shopping centers near its two MBTA Blue Line stations, three residential buildings and half a million square feet of office and amenity space.
The space has also served as a COVID-19 testing site through Project Beacon, allowing residents to get drive-through PCR tests free of charge.