A 23-year-old man was arrested Sunday night by New Hampshire state troopers after allegedly leading police on two pursuits in a stolen SUV, crashing it and then running away on foot, according to authorities.
Emil Girard, of Biddeford, Maine, was taken to Rockingham County Jail pending an arraignment on a number of charges following the incident, including receiving stolen property, reckless conduct with a deadly weapon, disobeying an officer and resisting arrest.
New Hampshire State Police got an alert Sunday about a stolen Nissan Murano from Florida that had a Maine registration, according to a news release from the agency, which also said that the driver was headed back to Maine.
The news release said a trooper who was monitoring traffic on Interstate 95 spotted a car going over 100 mph and when he approached the car, he noticed that it matched the stolen one from Florida. The driver didn't stop, leading to a brief chase up I-95 and onto Route 101 West, authorities said.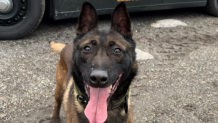 The trooper stopped chasing the SUV when the driver took Exit 12 because of high speed and traffic conditions.
When the SUV was spotted again on I-95 around 30 minutes later, another short pursuit began with the same trooper, the release said. Girard then went off the road and crashed near Exit 5, before running off on foot, police said.
A K-9 was able to find Girard in a marshy area around a quarter mile from the crash, where he surrendered to law enforcement, troopers said.
An investigation is ongoing.