Police officers in Nashua, New Hampshire, were led on an overnight chase by a man driving a car stuffed full of balloons.
State police received a call around 3:30 a.m. Thursday for a report of a hazardous driver on the F.E. Everett Turnpike. The caller said the dark-colored sedan did not have any lights on traveling northbound in Nashua.
Troopers spotted the black Audi A4 near Exit 8 in Nashua and attempted to pull the car over, but the driver, later identified as 20-year-old William Riley, sped up as he tried to flee police.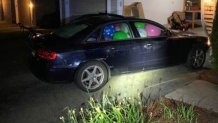 Police pursued the car with Massachusetts license plates until the driver arrived at his Bedford home. As Riley pulled into his driveway, he lost control and crashed into his garage. He attempted to flee into the house but he was quickly apprehended by officers.
Riley is facing several charges including reckless operation and disobeying an officer. He is scheduled to appear in Merrimack Circuit Court for his arraignment on Sept. 3.
Anyone with information regarding this incident is asked to contact Trooper Samuel Fuller at 603-228-8913.
Local
In-depth news coverage of the Greater Boston Area.
It's not clear what the balloons were for. The investigation is ongoing.