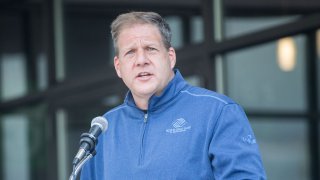 When should people wear face masks? How should businesses be screening for coronavirus? Are vaccinated people who get exposed to COVID required to quarantine?
All that and more is covered in New Hampshire's new document of COVID guidance, called the "Universal Best Practices." It offers "recommendations for all individuals, businesses, and organizations to consider and implement for the operation of their business" and replaces the "Safer at Home 2.0" business guidance that's been in place since March 2020, effective May 7.
Gov. Chris Sununu announced the release of the new document, which he characterized as a reminder of standing guidance, at his weekly briefing on the state's coronavirus response Thursday afternoon in Concord.
"We're just reemphasizing the most important parts of the guidance, mandates that we previously had in place," he said.
Read it on New Hampshire's COVID guidance website, or embedded below:
The state's vaccination drive continues, Sununu said, but "we're definitely seeing the demand plateau." That's due in part to so many people getting at least their first shot of the vaccine already -- more than 50% by the state's count, and even more than that by the state's count.
And the governor insisted that the state would keep working to vaccinate people regardless of whether there was much demand.
This Sunday, the state is holding three pop-up vaccination sites to distribute about 4,500 doses of the re-approved, single-dose Johnson & Johnson vaccine, one each in Concord, Nashua and Newington, Sununu said. People can sign-up by entering the locales' ZIP codes in the state's vaccine sign-up site, VINI.
More than 1 million doses of vaccine have been administered in New Hampshire, and more than half of the state's total population has received at least a first dose, according to Beth Daley, chief of the state bureau of infectious disease control.
"Even if you think you're at low risk for severe infection, getting vaccinated will help keep you at work or in school, it prevents you from having to quarantine after an exposure and it will help to protect the people around you who may be more vulnerable," she said.
State workers will be back in offices by Monday, May 10, Sununu said.
"All agencies are getting the same message, we're not picking or choosing certain agencies or divisions or departments," he said. "We expect to be fully operational and in person, with buildings open to the public, with public access for the business transactions that have to happen one-on-one."
More than 94,000 people have tested positive for the virus in New Hampshire, including 298 cases announced Thursday. Five new deaths were announced, bringing the total to 1,301.
The seven-day rolling average of daily new cases in New Hampshire has decrease over the past two weeks, going from 435 on April 13 to 287 on Tuesday.
New Hampshire's mask mandate expired on Saturday, making it the first state in New England to no longer require people to wear masks. At the briefing last week, Sununu said, while no longer required, masks are still recommended and he still wears a mask when he goes out.
"I don't think a whole lot changes," he said. "I think our habits are pretty good and I think people understand the importance."
The measure did not not limit private businesses or cities and towns from requiring masks, and some places, like Nashua and Keene, kept their mandates in effect. Sununu said the state's other pandemic-related safety measures will lift on May 7, including retail and restaurant restrictions and the "Safer at Home" edict.
New Hampshire has also begun vaccinating people from out of state, but the number of those who have taken advantage of that opportunity has been "far less than we anticipated," Sununu said.
NBC/The Associated Press