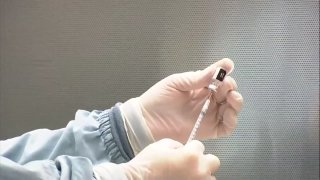 New Hampshire officials released new details Tuesday on how and when the COVID-19 vaccine will be made available to residents.
Already, 53,675 doses of the vaccine have been distributed and over 30,000 people have received their first doses. Those people are the highest-risk health care workers, first responders and long-term care facility residents and staff.
Stay informed about local news and weather. Get the NBC10 Boston app for iOS or Android and pick your alerts.
That first round, or phase 1A of the vaccine rollout, is expected to last through at least mid to late January.
The next phase, 1B, will run from January through March, and will include residents age 75 and up; individuals who are medically vulnerable and at significantly higer risk with two or more conditions, including cancer, heart issues, obesity, pregnancy and more; staff and residents of facilities that serve people with intellectual and developmental disabilities; and corrections officers and staff.
Phase 2A will run from March to May, and will include reisdents from 65 to 74 years old and K-12 school and childcare staff.
Phase 3A will be from May on, and will include those who are medically vulnerable who are under 50 years old and are at moderate risk.
Local
In-depth news coverage of the Greater Boston Area.
Phase 3B, which will also be from May on, will include everyone else who is not already vaccinated.
"Our philosophy is actually very simple," Gov. Chris Sununu said. "Those at the highest risk get the vaccine first. It's really that simple. We're lining the state up in terms of the highest risk on down."
Details on how to get the vaccine will be sent to health care providers and posted on nh.gov/covid19 in the coming weeks.
More than 47,000 people have tested positive for the virus in New Hampshire, including 667 confirmed cases announced Tuesday. Eleven additional deaths were announced, bringing the total to 792.
The state continues to average about 750 to 800 new cases per day, with a test positivity of 8.7%. That's consistent with the numbers the state has been seeing in recent weeks.
Sununu had not held a press conference since announcing last week that he was canceling his 2021 outdoor inaugural ceremony due to safety concerns in the wake of recent protests outside his home.
"The protests have clearly crossed the line, frankly," the governor said Tuesday. "It's my responsibility to provide for my family's safety."
In lieu of an outdoor event, a smaller inaugural ceremony will be held indoors at noon Thursday and livestreamed so the public can watch. Sununu will also give a live inaugural address at 7 that night.
For over a month, protesters have been gathering outside the governor's home in Newfields over his order requiring masks. Several people were issued summonses and one was arrested on Dec. 28 under a new anti-picketing ordinance passed by the local selectboard, which includes Sununu's brother.
Sununu issued an executive order that took effect Nov. 20 requiring masks to be worn in public spaces, indoors or outside, when social distancing isn't possible because of the coronavirus pandemic.
He said at the time a mandate was appropriate, given the rising percentage of positive test results, the fact that the number of people hospitalized with COVID-19 had doubled in the past two weeks, there were new outbreaks at five nursing homes, and an "incredibly alarming rate" of community transmission by people who aren't showing symptoms. The order expires Jan. 15.