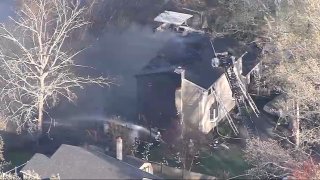 Flames broke out at a home in Plainville, Massachusetts, on Thursday, ripping through fast enough to call multiple departments to the scene.
Plainville fire official said they were called to the home on Treasure Island Road around 5 p.m. When they arrived the house was already fully involved. Firefighters from Plainville, Wrentham, Foxborough, Mansfield, Franklin, Norfolk, Bellingham, North Attleboro and Cumberland all responded to the scene.
No injuries have been reported. The scene remains active.
No other details were immediately available.
This is a developing story. Check back for updates.
Sign up for our Breaking newsletter to get the most urgent news stories in your inbox.