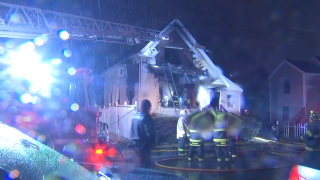 One person and two firefighters were hurt during a fire that broke out in Brockton, Massachusetts, Thursday night, according to fire officials in the city.
Crews were returning from a rollover crash when they saw smoke at around 10:19 p.m. Thursday, officials with the Brockton Fire Department said, adding that crews found fire when they arrived to the scene on Newbury Street.
The fire was at a single family home.
The person hurt was taken to an area hospital, and their condition was unknown Friday morning, officials said.
Two firefighters were also hurt, but they remained on duty.
Seven residents were being helped by the Red Cross, and significant damage was being reported at the home, totaling to around $100,000.
There hasn't been any word on the cause of the fire.