A teenage boy was killed in a double shooting Friday evening in Chelsea, Massachusetts.
Two male victims were shot around 5:30 p.m. at the intersection of Shurtleff Street and Grove Street, according to Chelsea police.
Jimmy Vasquez, a 15-year-old boy, was shot in the abdomen before being found in a hallway at the intersection of Shurtleff Street and Bellingham Street. The other victim, whose identity has not yet been revealed, was shot in the foot and found on Walnut Street. Also 15, his injuries were non-life threatening and he has since been released.
Vasquez was transported to Whidden Memorial Hospital, where he later died.
Police are searching for the vehicle they believe the suspects used to flee the scene. Officers say the car appears to be a 2010 gray Toyota Corolla with a resident parking sticker on the back.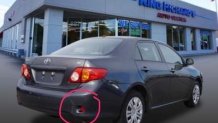 State police are assisting in the investigation. Anyone with information is asked to contact Chelsea Police detectives at 617-466-4880.
Local
In-depth news coverage of the Greater Boston Area.
Additionally, a Go Fund Me page has been set up for anyone who wishes to make a donation and assist Vasquez's family with his funeral.