Two more drivers have been cited by Massachusetts State Police for driving with way too much in the back of their vehicles.
State police said a trooper stopped one driver on Route 1 in Danvers early Monday morning. The driver, who had four canoes on top of the vehicle, was coming back from Cape Cod. The driver was cited for an unsafe load.
Police also said that over the weekend, a trooper in Springfield cited the driver of a pickup truck on Interstate 291 for an unsecured load, tire tread depth violation, and an inspection violation.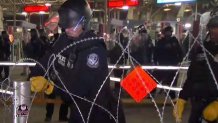 The driver's truck was overloaded with metal siding and other objects.
Police have been cracking down on overloaded vehicles of late. Back in June, the same driver in Springfield was cited twice — once for carrying a dangerous number of school desks, chairs and cabinets, and again for transporting large shrubbery.
Police are warning drivers to make sure their vehicles are safe before taking to the roads, not just for their own safety, but for the safety of those around them as well.