A father, mother and a 12-year-old son were found dead Thursday morning inside a home in Andover, Massachusetts, following an apparent murder-suicide and case of domestic violence, according to authorities in Essex County.
During a news conference at around 8:30 a.m., Andover Police Chief Patrick Keefe said that police had to breach two doors to get inside the house while responding shortly after 3 a.m. Thursday, and then found the father, mother and 12-year-old son dead with gunshot wounds. The father was 56 years old and the mother was 55 years old, according to Keefe.
In a subsequent news release, Essex County authorities announced that the incident was "an apparent case of domestic violence," and appeared to be a murder-suicide.
The people killed were identified as Andrew Robinson, his wife Linda and their son, Sebastian. Andrew died of an apparent self-inflicted gunshot wound, according to Essex County prosecutors and police.
The 911 call came from someone inside the home, which is located on Porter Road, Keefe confirmed during the news conference, which was held alongside Essex County District Attorney Paul Tucker.
"As you can imagine, this being early in the first of several hours into this scene, we have quite a bit of work to do, we're still in the preliminary stages," Tucker said. "But one of the messages we would like to make sure people know is there is no danger to the public at all. This entire situation was contained within the address here."
If you or someone you know needs help, please contact the Suicide and Crisis Lifeline by calling 988, call the National Suicide Prevention hotline at 1-800-273-8255 or reach out to the Crisis Text Line by texting 'Home' to 741741 anytime.
Police notified the child's school, Saint John's Prep in Danvers, which canceled classes Thursday in light of the morning's events.
Tucker made note of mental health during his comments Thursday morning.
"I think this is also a very good time to remind folks that if you're suffering from any type of mental health issues, any type of depression, that services are out there," Tucker said. "Our office is certainly a community resource for anyone who is having any difficulties."
The district attorney also recognized first responders for working such "difficult" scenes.
"These can take an emotional toll as well, we're always concerned about their wellbeing," Tucker said. "These men and women do an extraordinary job under some very difficult circumstances."
Tucker said that more information would be released as the investigation continued on Thursday, adding that authorities were in the process of notifying next of kin.
'Sebastian Was a Wonderful Young Man'
Ed Hardiman, the Head of School at Saint John's Preparatory, spoke to news media on Thursday morning, addressing the "extraordinarily tragic" loss of one of the school's sixth grade students, Sebastian Robinson. Classes were canceled on Thursday in light of his death.
"Our community is heartbroken by the tragic loss of Sebastian," Hardiman said. "The loss of a student within the context of a school, especially someone so young, is heartbreaking. The circumstances of Sebastian's death are just extraordinarily tragic."
If you or someone you know is experiencing domestic violence, contact the National Domestic Violence Hotline by calling 1-800-799-SAFE (7233), visiting www.thehotline.org or texting LOVEIS to 22522.
Hardiman said administrators had already gathered with faculty and staff in prayer, and connected with parents to provide information and pray. Counselors were on staff on Thursday for drop-in sessions for students and parents.
"Sebastian was a wonderful young man," Hardiman said. "He's a kind and gentle presence. He was well loved by his teachers, extraordinarily creative."
Hardiman called Sebastian an avid reader with a great nature, who impressed his teachers with his knowledge of the books he read. The school released a photo of the sixth grader playing the cello.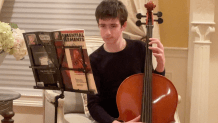 "As I talked with his teachers this morning, the description they continually offer is he was a very gentle soul," Hardiman said. "Who felt very grateful to be a part of the prep community, had a tremendous friend group and was very connected to our music program, our campus ministry program and someone who was very well-loved as a gentle soul."
Members of the Saint John's Prep community have been invited to gather in a community prayer service, scheduled for 5 p.m.