Police are looking for a man suspected to have robbed a bank in Falmouth, Massachusetts on Saturday morning.
Falmouth Police say the man walked into Rockland Trust Bank, located at 20 Davis Straits at around 9:10 a.m. demanding money from a bank teller while brandishing a handgun and claiming to have a bomb.
The suspect then stole a black 2019 Ford Flex SUV and left the scene, according to Mass. State Police.
At around 9:41 a.m., the vehicle was found in the 200 block of Teaticket Highway. The man may have left the area in a second vehicle after abandoning the stolen vehicle, according to police.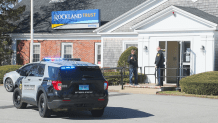 If you have any information you are urged to contact Falmouth Police at 508-457-2527.
The investigation is ongoing.