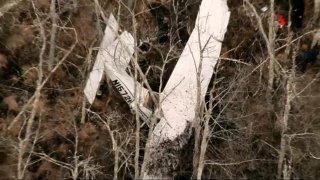 The pilot of a small plane died when the plane crashed after taking off at Sterling Airport in Massachusetts on Wednesday afternoon, authorities said.
The small plane went down in a wooded area near the airport, Massachusetts state police said as they raced to the scene.
The Federal Aviation Administration confirmed that a Cessna 177 crashed after departing from Runway 16 at Sterling Airport around 2:30 p.m. They said the plane clipped trees and came to rest in a swampy area about 100 yards north of the runway.
The pilot was the only person on board, the FAA said.
The Worcester County District Attorney's Office said that the pilot died. He was the only person on board.
The incident is under investigation by local, state and federal authorities.