Commuting into downtown Boston can be physically and emotionally challenging under normal circumstances.
But these are anything but normal times for Maggie Kent and her husband, Gordon.
Every day, the Bradford, Massachusetts couple hops on the Amtrak Downeaster at the station in Haverhill and takes the nearly one-hour trip into Boston.
Once at North Station, they head separate ways. Gordon takes a shuttle to his job in the Seaport District, while Maggie catches the Orange Line to her job in the Back Bay.
All that for a commuter who also happens to be nine months pregnant.
"It's very difficult," Maggie Kent expressed. "It's challenging on the body, mind and everything else. It's rough commuting for an hour into the city and not being able to sit."
She explained that more often than not, by the time the train arrives in Haverhill, all the seats are taken.
Local
In-depth news coverage of the Greater Boston Area.
Even though the couple pays $640 for their monthly passes, the cost appears to come with no guarantee of a seat.
"You come on and sometimes you're lucky and sometimes you're not. It's a crapshoot," said Gordon Kent. "If it were an airline and we were frequent travelers, we'd get better seats. On Amtrak, you don't get any seats."
The Kents invited NBC10 Boston to tag along for a morning commute and to see the crowded train first-hand.
After boarding, the Kents walked up and down aisles in several cars without spotting any empty seats. Some passengers had already settled for the ground.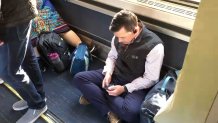 Just when it looked like the couple would be standing again, another rider noticed the expectant mother and offered to give up her seat.
"Unfortunately, she had to sit on the floor. But it was very nice of her," Maggie Kent said.
Gordon Kent said in the final stretch of his wife's pregnancy, more good Samaritans have stepped up and offered their seats.
However, over the winter, when large coats made it tougher to tell she was expecting, Maggie would often get stuck standing.
"I would get really worked up," she said, venting via Facebook on the Amtrak page about the recurring scenario.
In a statement to NBC10 Boston, an Amtrak spokesman apologized for the inconvenience, but said monthly passes do not come with the promise of a seat, according to the company's policy.
"Some of these trains are very crowded, seats are limited, and all tickets do not necessarily guarantee a seat," the statement said. "On crowded trains, our conductors make regular announcements asking passengers to make seats available for passengers with special needs."
The Kents would like to see Amtrak add another car to address the demand for the Downeaster.
The Amtrak spokesperson said the company is working with the Northern New England Passenger Rail Authority to evaluate options and to resolve these types of issues on overcrowded trains.
Maggie Kent figures she'll be on maternity leave by the time commuters notice any improvements. But she hopes another expectant mother doesn't have to stand or sit on the floor instead of enjoying the ride in a regular seat.
"It's been anxiety-producing, frustrating and upsetting," she told NBC10 Boston. "Quite frankly, it's yet another concern you have to think about."
Ryan Kath can be reached at ryan.kath@nbcuni.com. You can also follow him on Twitter or connect with him Facebook.