After the seventh consecutive day with temperatures at or below 20 degrees in Boston, that's the longest spell of frigid weather since February 1979. Thankfully, we are aiming at a slight warm-up for Wednesday with highs stretching into the mid to upper 20s. The last time we saw those kind of temps were last year! OK, enough with the New Year's jokes.
As we look ahead to late Wednesday night into early Thursday, we have a potent coastal storm climbing up the eastern seaboard that has spawned winter storm watches and warnings from northern Florida to the Carolinas. A winter storm watch has been issued for parts of our area, from eastern Connecticut, the entire state of Rhode Island, the Cape and the Islands, southeastern Massachusetts, central to eastern Massachusetts, southeastern New Hampshire, and the entire state of Maine from Wednesday night through Thursday night.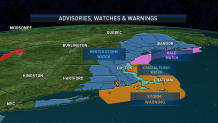 As this system approaches, it will intensify just off the coastline, making for high surf and minor to moderate coastal flooding likely during the high tide at noon Thursday.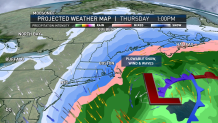 Then, there's the strong to damaging wind gusts, which could bring the most impact to southern New England. Gusts could reach between 50 to 65 mph along the Cape and Islands, 40-50 mph along and south of the Massachusetts Turnpike by late Thursday morning. Power outages are possible with gusts this strong.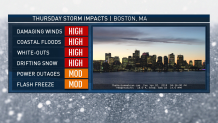 Now to the snow. As far as timing, the outer bands of snow can reach southern New England just after midnight late Wednesday night. These will increase in coverage across southern New England from 4-7 a.m. Thursday. Not only will this system impact the morning commute, it will also impact the evening commute, as the snow ramps up in intensity from southern New Hampshire to central to eastern Massachusetts to the Cape and Islands. Reduced visibility to white-out conditions during some of the heaviest snow bands are expected to develop by midday Thursday and continuing into the evening.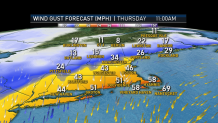 Snowfall accumulations could reach over a foot from downeast Maine to midcoast Maine, spanning as far west as Bangor. The rest of the state of Maine is likely between 9-12" and that range is likely to slide southward the New Hampshire seacoast to Cape Ann to metrowest, and downtown Boston to southeastern Massachusetts. For most of New Hampshire to central Massachusetts and most of Rhode Island, 6-9" is likely. Most of New England west of downtown Worcester is expected to get 3-6" with the exception of the Berkshires and western CT, where up to 3" of snow are expected.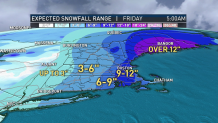 By Friday morning, the core of the system will be over the Canadian Maritimes, with some lingering snow showers for northern New England. Southern New England will see drier and colder conditions with highs Friday only stretching into the teens for most.
Local
In-depth news coverage of the Greater Boston Area.
By Saturday, we're under another cold blast, possibly near record-breaking, with high temperatures struggling to make it out of the single digits and wind chills well below zero. With this weekend's cold blast, a flash freeze is possible, making for downed trees and power lines, along with power outages.
We finally reach above freezing by the start of the next work week, but that could be accompanied by a period of wintry mix, so we are going to keep an eye on that as we get closer.
In the meantime, stay up to date on the very latest with Thursday's coastal storm by downloading the NBC 10 Boston and necn apps to get alerts on the go as the system evolves.