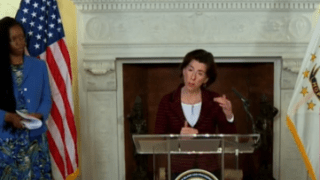 Ten more Rhode Island residents have died from the novel coronavirus bringing the state's total to 73 on Monday, according to Gov. Gina Raimondo.
There are now 2,976 confirmed cases of COVID-19, the disease caused by the new coronavirus, an increase of 311 from Sunday, Raimondo said.
Out of those confirmed cases, 197 patients remain hospitalized.
Eight of the 10 people who have died since Sunday were in nursing homes, according to Dr. Nicole Alexander-Scott of the Rhode Island Department of Health. Four of the recent deaths were reported at Oak Hill in Pawtucket, Golden Crest in North Providence, Elmhurst in Providence, and Oakland Grove in Woonsocket.
So far, 55 of the state's 73 coronavirus deaths have now been in nursing homes, Alexander-Scott said.
Speaking at her daily news conference, Raimondo said Rhode Island still needs widespread and accessible testing, although the state has made a lot of progress.
Local
In-depth news coverage of the Greater Boston Area.
She said the focus this week will be to do more mobile and inner-city testing as well as to work on plans to isolate people once they've tested positive for coronavirus.
Because of the wind and heavy rain forecast for Monday, all of the outdoor coronavirus testing sites in Rhode Island were closed but were expected to reopen on Tuesday.
The governor announced a $10 million small business loan with Goldman Sachs for small businesses and small non-profits that can't access the federal Small Business Assistance loan program.
With schools entering the fifth week of online education, Raimondo thanked students, parents and teachers for their hard work. She announced that the Rhode Island Foundation was providing more than $100,000 for computers and WiFi hot spots for students in low-income areas.
A decision on how the rest of the academic year would play out has not yet been decided.
The governor asked those who have filed for unemployment insurance to be patient as the system is overwhelmed. Raimondo said 144,000 residents have filed for benefits and it could take 7-14 days to get your check from when you first filed.
The governor stressed making sure information is accurate when filing for unemployment because "that's what slows down the process."
On Thursday, Raimondo announced that Ocean State residents ordered into quarantine who leave their homes would be issued fines. She signed an executive order directing health officials to develop regulations to enforce penalties.
If a person knowingly violates a quarantine order, "You will be punished," she said.
Also last week, Raimondo announced that social distancing measures would remain in place through at least May 8.