More than 300,000 homes are without power in Massachusetts, as the second nor'easter of March has brought heavy, wet, pasty snow across the region bringing down trees, snapping branches and power lines. Snowfall totals so far have ranged from 5.5 inches closest to Boston with a few places in the Green Mountains in Vermont still in the thick of it and reaching over 30 inches so far.
As far as the forecast throughout the rest of today and tomorrow, the system will continue to churn and slide northwestward, but before it does that, we'll be in and out of snow bands in central and eastern Massachusetts, but the rest of southern New England will finally start to notice the storm tapering off.
However, as we head northward, for Vermont, New Hampshire, and especially Maine, the storm is only just beginning. Saco, Maine is already nearing the 12-inch mark and they will continue to get snow through the day and into this evening.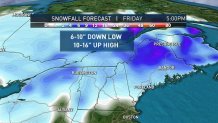 Tonight, we see a gradual clearing of the skies for southern New England with snow still lingering along the higher elevations of Vermont, and New Hampshire, with northern Maine still seeing accumulating snowfall.
Friday brings a passing snow shower for southern New England by the late afternoon, northern New England will still feel the brunt of the nor'easter before it tapers through the day.
This weekend brings drier conditions to southern New England with a few snow showers for the mountains of northern New England. High temperatures this weekend range from the lower 40s south, 30s north under mostly cloudy skies.
We're already looking ahead to the possibility of yet another nor'easter (yes, now the 3rd nor'easter for the month of March), slated for Monday into Tuesday. The latest keeps the nor'easter out at sea, with snow clipping the southeastern New England, the Cape and Islands Monday afternoon and evening, and then extending into Maine with heavy snow late Monday and through Tuesday.
Winter Wonderland: Snow Photos From Around New England
It's a little too early to hammer out the details about snowfall totals just yet, but stay tuned for the very latest as we get closer.
Download our free mobile app to track the latest storm conditions.