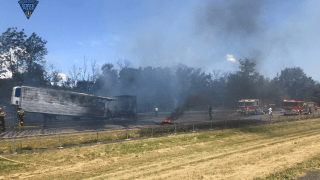 Three people were injured as the result of a car crashing into a Massachusetts State Police cruiser already on the scene of a tractor-trailer fire on Interstate 91 in Holyoke Sunday.
The driver of the car, a state trooper and Holyoke firefighter were all transported to Bay State Medical Center in Springfield with non life-threatening injuries after the incident, which took place near Exit 14 around 12:45 p.m.
The driver of the car, traveling northbound, struck the rear of a cruiser, occupied by a trooper. The force of the crash caused the cruiser to strike a firefighter who was standing on foot.
The incident is under investigation by the Massachusetts State Police.
All southbound lanes were closed and two northbound lanes were closed due to a secondary crash by Exit 14.