What to Know
Data from the CDC's "500 Cities" Project shows half the adults living in a Brockton neighborhood report sleeping less than 7 hours per night
The Brockton neighborhood also had 33 percent smoking rate
Other Massachusetts cities with similar smoking rates include New Bedford and Fall River
A neighborhood in Brockton has the highest smoking rate in Massachusetts, and its residents are also the most sleep-deprived, according to the findings from the Center for Disease Control's "500 Cities Project," which measured health risks and indicators down to the census-tract level in thousands of communities across the country.
The study found that half the adults living in the Brockton neighborhood report sleeping less than seven hours per night on a regular basis. By contrast, a neighborhood in Cambridge with roughly quadruple the average household income reported that only about 26 percent of residents don't get a good night's sleep.
Smoking Rates in the Boston Metro Area
Source: CDC, Census Bureau
Credit: Sam Hart/NBC
According to the survey, the Brockton neighborhood also had 33 percent smoking rate. Other Massachusetts cities with similar smoking rates include New Bedford and Fall River.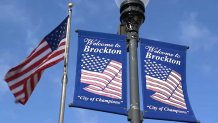 "Smoking increases sleep disturbances," said Maria Celli, the director of social services at the Brockton Neighborhood Health Center. "There's a lot of poverty in Brockton and that's going to cause distress or stress that's going to make a person vulnerable to pick up smoking."
Local
In-depth news coverage of the Greater Boston Area.
Celli told NBC10 Boston a lot of the health center's patients are also parents, who might hold down two jobs to pay the bills.
"They might be up until a certain time of night, taking care of children, tending to a home, and then getting up at 4 a.m. to work," she explained.
NBC10 Boston spoke with a patient at the health center who is currently trying to quit smoking and said it's "been at least a month" since he enjoyed his last good night's sleep.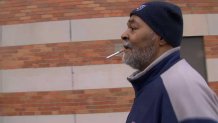 "It's tough," said Robert, who asked NBC10 Boston to only use his first name. "Could you go to sleep peacefully knowing you have to pay the rent but don't have the rent money to pay?"
Robert, a recovering addict who's been smoking since age 14, knows he will need help conquering the nicotine addiction. Right now, a pack of cigarettes lasts him about three days.
"I wish like hell I could quit," he expressed. "If you have to pick the lesser of two evils, I'd rather be trying to quit smoking than going through this drug thing again."
Twenty-five miles away, it's a different story. With a night-and-day difference in wealth, education and exercise, it is not surprising that Newton has a much lower smoking rate.
However, Newton Mayor Ruthanne Fuller told NBC10 Boston there might be other reasons behind the nationally-low 9.5 percent smoking rate.
"We were one of the first cities or towns in Massachusetts to raise the minimum age from 18 to 21," Fuller explained. "We also capped the number of stores that can sell cigarettes. We want tight restrictions."
Fuller said city leaders are now turning their efforts to high-visibility preventative education in schools related to vaping and juuling.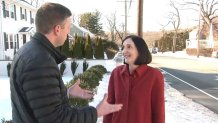 In the Newton neighborhood with the lowest smoking rate, it does seem difficult to find a place that sells cigarettes.
At the corner of Beacon and Walnut, the Whole Foods grocery store doesn't sell them. Neither does the Walgreen's across the street. The only store with cigarettes is a Mobil gas station.
But owner John Coyle said the lack of competition hasn't boosted his bottom line.
"We probably make an extra 15 bucks per day," Coyle said. "It used to seem all day long, you'd have someone pulling up front, hopping out and buying cigarettes. That just doesn't happen anymore."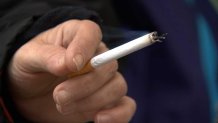 Back in Brockton, cigarettes are prominently advertised on the storefronts of numerous businesses, sometimes right next to essentials like milk and break.
Inside the Brockton Neighborhood Health Center, Celli said the details of the CDC study are generating discussion and debate about the reasons behind the high rates, and what can be done to improve the trends.
"It makes me think about what we can do as people who love and care for the community," Celli expressed. "Is there some kind of public intervention we could pursue related to smoking and sleep?"