It's another gorgeous afternoon featuring sunny skies and warm temperatures. Highs today will rise to the 70s one more time. Yesterday's temperatures reach 76° in Boston and we're onto another mild one.
Dry weather persists through this evening and tonight, while overnight, the disturbance affecting Illinois through Ohio will be moving east into New England and producing showers for us around 3am into early morning tomorrow.
If your commute is 4am, it's likely you'll encounter some light rain. North of route 2 may be drying out around 6am as the rain pushes south, moving out of the south shore around 8:30 am.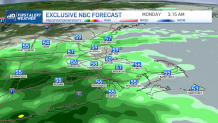 This will give way to another beautiful sunny afternoon, not bad for a Monday, highs in the 70s and rain free. Clouds will build up on Tuesday as a backdoor cold front approaches south producing a sea breeze and keeping our coastal communities cool.
Highs along the coast may remain in the upper 50s, 60s inland and mid-60s far west.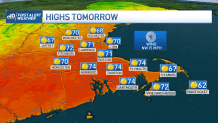 With a rain-free pattern, temperatures will rebound to the 70s by late next week and offer more sun. Our following weekend features temperatures in the lower 70s to upper 60s and building clouds by Mother's Day.
We'll keep an eye on Mother's day as there's a system pushing in that night into the following Monday. It's too early to pin down timing, things may still change.