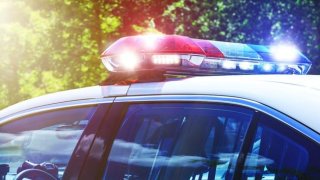 A Reading man who barricaded himself in his house and drew a heavy police presence was arrested late Sunday afternoon, according to authorities.
Residents near the home were asked to shelter in place until the man was brought into custody, Reading police said. He was charged with two alleged counts of possessing a firearm without a license and possessing amunition, as well as disturbing the peace.
The shelter in place order was lifted around 5:15 p.m., police said.
Police received a hang-up 911 call just after 2 p.m. Sunday, prompting them to perform a wellfare check at a home on James Road in Reading. They found the man inside was possibly armed and unwilling to cooperate with police.
Multiple roads were closed during the standoff, including South Street, Avalon Road, and Whitehall Lane, according to a statement from Reading police earlier in the afternoon.
Members of a SWAT team from the Northeast Metropolitan Law Enforcement Council joined Reading police in arresting the suspect. He was brought to a nearby hospital for evaluation, Reading police said.
No one was injured and no shots were fired during the incident.