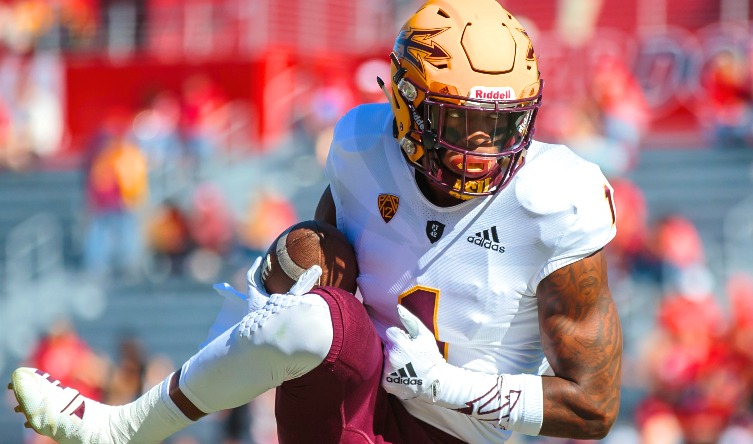 FOXBORO – Remember the game back in 2011 when Tom Brady and Bill O'Brien got into it on the bench in Washington
Local
In-depth news coverage of the Greater Boston Area.
Brady's irritation – which he later admitted was misplaced – stemmed from his belief that wide receiver Tiquan Underwood didn't aggressively attack a 50-50 ball in the end zone resulting in an interception.
"Ti, you got to go get it!" Brady pleaded on the bench.
O'Brien let Brady know that he believed the quarterback was mistaken. The rest was expletive-laden history.
The reason this is germane nearly nine years later?
I don't think Brady will ever have to complain about a lack of fight from N'Keal Harry, the wide receiver the Patriots took with the last pick in the first round on Thursday night.
Harry is a 6-2, 228-pound, ball-attacking, high-pointing, back-shouldering, acrobat who's got durability, after-the-catch toughness, hammerlock hands and the savvy to body up defenders and win contested catches.
In other words, if the Patriots were going to break their annual tradition of staying away from first-round receivers, Harry is the perfect one to do it for.
Herm Edwards, who coached Harry at Arizona State, had this to say about Harry earlier this year when he spoke to ESPN.
"Is he willing to compete?" Edwards asked. "Check that box. Does he prepare himself when he is not in the building, when he's off the field? Check that box. In the community, does he have any issues in the community? Does he have any red flags of him being obviously social problems and outside the community? Has he been arrested? Check that box off, nope.
"There's a lot of boxes he checks off. Probably the biggest box of all that he checks off, and I've discussed it with the pro guys, is he loves to compete."
There were faster wideouts on the board. A lot of them, given that Harry was timed at 4.53. There were taller ones and quicker ones. But there probably aren't any with the size-strength-hands-work ethic combo that Harry appears to bring.
Any time the Patriots bring in a receiver, the primary concern isn't about hands or feet. It's whether or not the space between their ears is filled with gray matter that will help them get to the right spot at the right time.
Brady's iced more experienced players than Harry for crimes against route-running. But as it stands now, Brady isn't in the position to ice anybody. He's got Julian Edelman, Phillip Dorsett, Austin Sefarian-Jenkins and James White as dudes to throw to.
If Demaryius Thomas is a quick healer, maybe he gets him too. If Josh Gordon gets reinstated and succeeds in staying clean, Brady's got him too.
Until then, Harry is Brady's big wideout best buddy. Here are six minutes of video showing why Brady might be convinced – at nearly 42 – to fall in love with a player half his age.
Harry is tougher than Thomas. He may at this point be just as fast as Gordon and within a year he will almost certainly be faster. And he's got a ton of attributes similar to Gordon. Harry isn't a reach. He was projected to be a late first/early second-round value.
And while speedier, shiftier slotty receivers such as Parris Campbell, Deebo Samuel or A.J. Brown got most of our local attention when we stacked players to fill the very obvious wideout need, Harry was sitting there as a little overlooked.
While Campbell ran 273 snaps from the slot last year for Ohio State, Harry ran 130. And was massively productive.
There's really nothing to wail about when it comes to this pick. It's a position of need. It's – let's admit it – a more entertaining position to watch a player develop at than, say, defensive tackle. He's not soft. He's not injury-riddled. It's a mediocre draft to begin with. Harry, because of his physicality, is going to be much more of a bare-knuckle receiver than Chris Hogan, Malcolm Mitchell, Aaron Dobson and so on.
"This guy, in my opinion, ain't even close to as good as he's going to be," said Todd Graham, Harry's coach at ASU in his first two years at the school. "He was in college for 36 months. You're talking about a guy who was really young, as far as his mental maturity, emotional maturity, he was very young coming out of high school."
The steep learning curve Harry's been dealing with is about to get even steeper. He's stepping into a spot that's opened into a trap door to nowhere for countless receivers who preceded him. Veterans, rookies, former first-rounders and scrubinis.
They're all down there in the dustbin of Patriots wide receiver history.
On first impression, you can at least see Harry isn't going there without a fight.
Click here to download the new MyTeams App by NBC Sports! Receive comprehensive coverage of your teams and stream the Celtics easily on your device.
Copyright NBC Sports - Boston