A dog who hiked dozens of mountains in New Hampshire is climbing to new heights on social media.
Don't let his little legs fool you: At 9 years old and 20 pounds, Woof the pug is peaking.
He's been going the distance, hiking all 48 Granite State mountains measuring at least 4,000 feet — possibly the first pug ever to complete the infamous challenge.
"We started with really short — Mount Major, Mount Kearsarge," explained Woof's owner, Erin McMahon. "He did OK, and he seemed to love it, so we just went bigger and bigger."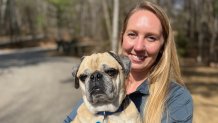 McMahon says Woof has always been energetic. He started his hiking journey four years ago, trotting through the trails with ease.
"I always say that Woof is kind of a snob. He walks right behind me like a little baby duck," McMahon said. "He really will not stop for people or dogs, he does not care, unless they're eating lunch."
The little explorer has only needed help with streams and boulders. Wild weather and snow have not been a problem for him.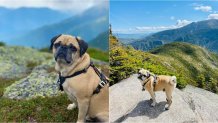 "I've had so many people say, 'How do you carry him all the way up there?' And I'm like, 'I don't,'" McMahon said. "I'm not carrying an extra 20 pounds just for fun. He walks all the way."
Local
In-depth news coverage of the Greater Boston Area.
Woof is setting a high bar for others, but leading by example.
"I think it's true: If a pug can do it, you can do it," McMahon said. "He has such little legs, and I think about all the steps that I take to get to the top and bottom, and he's probably taking four or five times that. So I think if you put your mind to it and you train right, you can probably do anything."