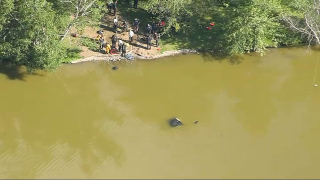 A vehicle was seen submerged in Lake Hibiscus in Boston's Forest Hills Cemetery Monday afternoon.
First responders could be seen in the area, and divers were making their way to the vehicle. It appeared to be Lake Hibiscus, a body of water in the center of the cemetery.
Cemetery workers said they saw the car idling with a man inside for almost an hour before a passerby reported the car in the water. The man, who was described as "distraught," fled the scene and was detained by police.
More information wasn't immediately available.
NBC Boston has reached out to the Boston police and fire departments.
This is a breaking news story that will be updated when more information is available.