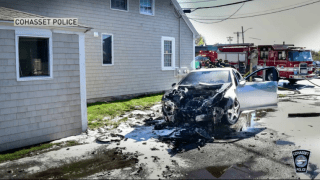 A woman is critically injured following a single-car crash in Cohasset, Massachusetts on Saturday, according to police.
Police responded to reports of a car speeding through the intersection of Hull Street and Jerusalem Road when it crashed into a stone wall and burst into flames.
Police and fire crews arrived to find the car on fire and the driver trapped inside.
Police say the driver is a 65-year-old female but have not released her name. She was taken to a Boston-area hospital with life-threatening injuries.
An initial on-scene investigation suggests that speed and alcohol likely contributed to the crash, but police say they are continuing to investigate.