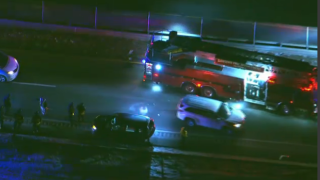 Two people were hospitalized Thursday morning when a wrong-way driver caused a three-car crash in Danvers.
The crash happened at 4:53 a.m. when a vehicle entered Route 128 north the wrong way, according to Massachusetts State Police.
A 37-year-old Reading woman who was driving a Toyota Sienna van and an 85-year-old Peabody woman driving a Toyota Venza SUV were taken to area hospitals for treatment of minor injuries.
A 39-year-old man from Gloucester who was driving a Honda CRV was also involved in the crash but not taken to the hospital. Police originally said four people were hurt in the crash.
All northbound lanes of the highway were closed for two hours while crews maintained cleanup. As of 7 a.m., the lanes reopened.
So far, no charges have been filed against the wrong-way driver. The investigation is ongoing.