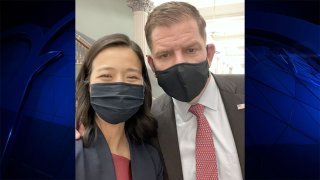 Boston Mayor Michelle Wu visited the White House on Tuesday to meet with other newly elected mayors, senior White House leadership and members of President Joe Biden's Cabinet -- including some "familiar faces."
Wu left for Washington, D.C. Tuesday morning and documented her trip on social media. She shared a selfie with one of her predecessors, Labor Secretary Marty Walsh, as well as a picture with national climate adviser and Boston native Gina McCarthy.
Along with Walsh and McCarthy, Wu met with Housing and Urban Development Secretary Marcia Fudge, Transportation Secretary Pete Buttigieg and infrastructure czar Mitch Landrieu. Four of the five were previously mayors.
Wu was one of 10 mayors at the meeting, her office said, which was meant to build partnerships between the federal government and the cities involved.
"We'll get the chance to sit directly with Cabinet secretaries about infrastructure about public health about housing," Wu said before leaving Boston. "So I'll be making sure that I'm speaking up for everything that I've heard from our residents across our neighborhoods and fighting for Boston to have the resources that we deserve."
Walsh was in Massachusetts on Monday for an event in Springfield highlighting investments in the new federal infrastructure law. He declined to speculate on rumblings that he may toss his hat into the state's gubernatorial race.
Copyright State House News Service