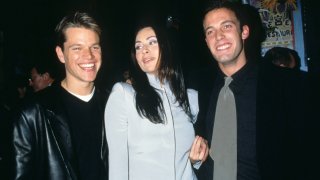 An apartment in a South Boston building made famous by the movie "Good Will Hunting" is up for rent, but you may have to be good with numbers to afford it.
The second-floor unit in the triple-decker home at 190 W. Sixth Street will cost you $4,500 a month.
The apartment won't look like it did in 1997, when the Oscar-winning movie came out. It's been remodeled.
"It's super comfortable to entertain and enjoy in if you look at the layout," Frank Celeste of Gibson Sotheby's told Boston.com.
See photos of the interior on the 1,000 sq. ft. two bed, two bath's Zillow listing, which advertises a chef's kitchen and gas fireplace.
It's not the unit that Matt Damon's character lived in, however, as Boston.com noted. The unit for rent is the apartment right above his character's.