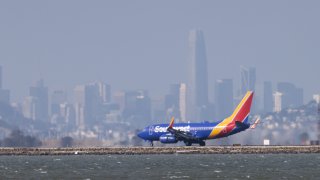 A passenger disturbance on a Southwest Airlines flight prompted its diversion to Little Rock, Arkansas, on Saturday on one of the year's busiest travel weekends.
A person was taken into custody by FBI agents, the bureau's Connor Hagan said. Potential charges would be the responsibility of the U.S. Attorney in Arkansas.
The exact nature of the disturbance on board the Columbus, Ohio-bound flight from Houston wasn't entirely revealed. But in an interview, Hagan noted that any physical confrontation or assault on board a U.S. passenger plane comes under the FBI's purview once the aircraft leaves its gate.
For more on this story, go to NBC News.