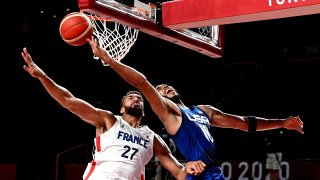 Two Boston athletes achieved greatness near the end of the Tokyo Olympics.
Celtics star Jayson Tatum helped Team USA win the gold medal over France .
Meanwhile, Boston resident Molly Seidel won bronze in the women's marathon.
Here's how to watch our local athletes, plus track and field events, baseball and women's golf:
Tatum, Team USA beat France for gold medal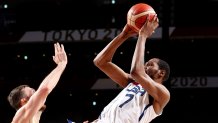 The U.S. men's basketball team got its revenge on France, winning the gold medal game at the Tokyo Olympics, 87-82. Celtics star Jayson Tatum put up 19 points in the effort.
The Americans held only a seven-point lead with three minutes to go, just as they did in the preliminary game against France, where France went on a run and got the win. The French cut it to three with 10 seconds left on two free throws by Nando De Colo.
Kevin Durant made both of his free throws with 8.8 seconds left to seal the win.
The Americans' leading scorer was dominant through the first three quarters of the game, finishing with 29 points on 9-of-18 shooting.
"It's winning time," Durant said after the game when asked how he came through for the team in the gold medal game. Now a three-time gold medalist, he became the U.S. men's basketball team's leading scorer of all time during the Tokyo tournament.
Tatum added 19 points for the U.S. off the bench, while starting guards Jrue Holiday and Damian Lillard each tallied 11 points. Team USA committed only nine turnovers to France's 18.
For France, Rudy Gobert didn't miss a shot from the field but went 6-for-13 from the line for 16 points and eight rebounds. Evan Fournier also had 16 points on a poor shooting night, while Guerschon Yabusele had 13. Although the U.S. gave France 29 free throws, France only converted 18 of them.
Team USA got off to a slow start, missing its first eight 3-pointers, but had a 22-18 lead by the end of the first quarter. France had an answer every time the U.S. built a lead, closing the second quarter on a 13-5 run and cutting it to single digits at the end of the third on a 3-pointer by Nicolas Batum.
The American men have now won four straight gold medals. The American women aim to extend their own gold medal streak against Japan at 10:30 p.m. on Saturday night.
Team USA looks to add more medals in track and field in 4x400m relays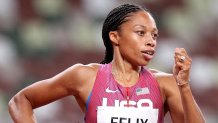 In what will be the last full day on the track, Team USA will look to reach the podium in both the men's and women's 4x400m relays. In what will be the final race in Allyson Felix's historic Olympic career, Team USA will try to send off the one of the most decorated Olympians in history with a final medal to add to her collection.
Team USA is the reigning champion in the event, and will be gold medal favorites after their blistering qualifying time of 3:20:86. Kendall Ellis, Lyann Irby, Wadeline Jonathas, and Kaylin Whitney made up the qualifying quartet, while Felix is expected to run the final on Saturday morning at 8:30 a.m. ET.
Other final events from track and field on Saturday include: Women's high jump, the women's 10,000 meter race, men's javelin throw, and the men's 1500 meter race.
Coverage begins at 6 a.m. E.T. Watch on Peacock or stream live here.
Bostonian Molly Seidel wins bronze in women's marathon in Sapporo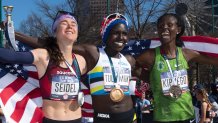 Molly Seidel ran a stunning race in the women's marathon at the Tokyo Olympics to secure the bronze medal in her third-ever marathon. Peres Jepchirchir of Kenya won the gold in 2:27:20, while her countrywoman Brigid Kosgei took the silver.
Seidel had previously only run a marathon in the Olympic trials and the 2020 London Marathon, which she finished in 2:25:13. She won four NCAA titles at Notre Dame, but the longest of them was 10,000m.
Jepchirchir has been more successful in the half marathon, winning the world championship at that distance in 2016 and 2020. Kosgei owns the women's marathon world record, set in 2019. The two Kenyans began to break away from Seidel at around 37k.
Among the other Americans, Sally Jepkosgei Kipyego finished 17th, 5:33 behind Jepchirchir's winning time. American Aliphine Tuliamuk had to drop out after 20k due to a hip injury.
Seidel ran a strong race from the start, joining the lead pack of about 12 runners who stayed together through the first hour and a half of the race.
Deena Kastor – the last American woman to medal in the marathon, in 2004 – was among those who celebrated Seidel's surprise bronze:
Nelly Korda holds off challenges, weather to win Olympic gold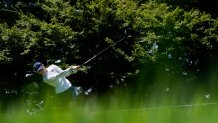 After Team USA's Xander Schauffele won gold in the men's tournament last week, 23-year-old World No. 1 Nelly Korda earned the United States a second golf gold in the women's tournament. Closing out the fourth and final round, she hit two-under par for a 17-under competition total.
Korda is a six-time winner on the LPGA Tour and earned her first major at the Women's PGA Championship in June. She dominated the second round with a nine-under-par 62, tying the Olympic golf record for lowest round. Korda had maintained a solid, if not overwhelming, lead at the end of round three, scoring a two-under par for a 15-under total.
That didn't provide much breathing room in round four, which saw Korda struggle to stay on top. At least a dozen golfers were well within striking distance of gold, spurring the other leaders to play more aggressively. Korda took the opposite approach: Showing nerves, she hesitated often and opted for a more conservative strategy. This proved disastrous during the seventh hole, in which the American double-bogeyed and erased her two-under lead completely. In doing so, she briefly tied New Zealand's Lydia Ko -- the Rio silver medalist -- and India's Aditi Ashok for first.
Korda bounced back immediately, with birdies on the eighth, ninth, and tenth holes -- and then held tight to first place.
Team USA faces Japan in baseball gold medal game
Team USA is on the hunt for the first Olympic gold medal awarded since 2008. They will face off against Japan, who was the only team to beat them in pool play, at 6 a.m. ET on Saturday.
By making it to the gold medal game, Eddy Alvarez has become the third American to win a medal in both the Summer and Winter Olympics, and he will look to make that medal gold.
The U.S. baseball team captured its lone gold medal in 2000 when it stunned a favored Cuban team at the 2000 Sydney Olympics.
The game will stream live on NBCOlympics.com at 6 a.m. and air on USA Network at 9:30 a.m. ET on Saturday.