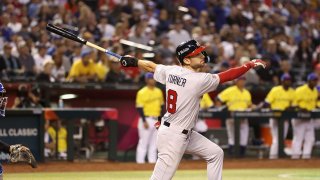 You can never count out the heart of a champion.
Team USA's title defense bid in the 2023 World Baseball Classic quarterfinal vs. Venezuela on Saturday looked bleak, until Trea Turner supplied a pivotal moment.
With the U.S. down 7-5 in the top of the eighth inning, Turner delivered a grand slam on a fastball pitch on an 0-2 count to reclaim a 9-7 advantage.
The 407-foot hit soared toward left field and saw Tim Anderson, Bobby Witt Jr. and J.T. Realmuto round home.
Team USA had a 5-2 lead going into the bottom of the fifth, but Venezuela tallied four runs to put it in pole position to move onto the semifinal against Cuba.
However, Turner's clutch moment could be the deciding factor in a game filled with countless turning points.