The snow drought and the unseasonably warm weather continue.
We can expect a mostly sunny sky for Wednesday, with very mild temperatures. Many spots will even hit 50 degrees. Wednesday night, clouds collect, but conditions remain dry and mild. Temperatures will be in the middle 30s.
On Thursday, rain arrives midday, becoming heavy in the later afternoon. Highs will be in the middle 40's. Friday is mostly sunny, with record warmth possible. Upper 50s and even a 60 degree reading are possible.
For Saturday, we're forecasting a few clouds mixed with sunshine, and highs in the middle 40s. Our team is watching a storm for Sunday, that is likely to stay out to sea. If it comes close to us, we could expect a few wet snow flakes on the Cape and Islands. Highs will be in the upper 30s to 40 on Sunday.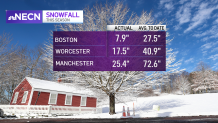 Monday and Tuesday next week, are both mostly sunny, and mild. Highs will be in the upper 40's to near 50.