A strong cold front moves out of Canada into New England today, pushing in showers and a few thunderstorms. As they approach I-95, most of these weaken, lingering showers remain for dinner time across the south but most of it moves out of the south by tonight.
Aside of that, amole sunshine allowed us to warm into the upper 70s away from the immediate coast. Onshore kept cooler temperatures in the Cape in the low 60s, while that wind shift after this cold front will gust up to 40 mph tomorrow.
Temperatures will stay cooler through Friday after the passage of this front along mostly dry conditions.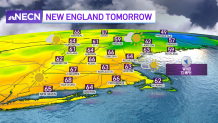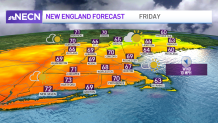 The holiday weekend offers great news, a high pressure system will stall over us allowing sunny afternoons and building temperatures into the upper 70s & 80s.
Our following week keeps a warm up taking us to the 80s again!