The showers departed, but the clouds aren't getting the hint. A swarm of them will sail overhead Friday. At times, the sun may poke out, but for most of the day, it will be dimly visible. Since we traded our mild airmass in for a cooler one, we won't be anywhere near the highs of Thursday, either. Low 50s will have to do for this final day of the work week.
Saturday doesn't fare much better. More of a one-step-forward, two-steps-back kind of day. We'll have a few hours of dry weather (with some early morning rays) before the showers catch up to us. Enough cold air will be around to allow some of the first waves of precipitation to be in the form of sleet or wet snow.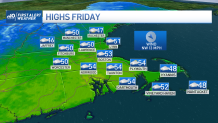 Accumulations will be negligible, and most of the last holdouts of frozen precipitation will be around Greater Worcester and into southern New Hampshire. North of Nashua and Hampstead, there is a possibility of some minor (less than 1-inch accumulation) before the complete turnover to all rain later in the day.
Winds will accompany the showers, but their impact will be mostly at the coast. Sunday the winds turn from the northwest, and gusts areawide could make it to 35-40. Sun is back too, boosting temperatures back into the mid 50s.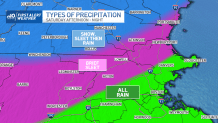 We've had a on and off relationship with a potential storm next week. Right now it seems off (as in far offshore), but we'll give it one more day before we completely sever the ties. Either way, the temps stay on the cool side at least through the first half of next week.
Have a great weekend!