Rain starts the day on Tuesday, with the chance of a passing thunderstorm as well.
The rain will not be continuous throughout the day, though, and likely tapers off by mid-afternoon. With cloudy skies, highs are in the upper 50s.
Wednesday is cloudy, with a steadier rain possible. Cooler air works in, and highs are only in the lower and middle 50s.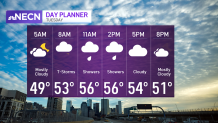 Thursday is cloudy with on and off rain showers. Highs struggle to hit 50 degrees, with a stiff east wind. Friday starts with showers, but likely ends sunny.
East winds keep temperatures in the middle and upper 50s. Saturday finally dries out, and strong May sunshine propels temperatures to the upper 60s.
You can expect 70s for Sunday, Monday and next Tuesday. All three days will be mostly sunny and dry, finally breaking our cool and wet pattern.