Severe thunderstorms rushed through parts of New England Wednesday afternoon, at one point threatening to create a tornado in Connecticut.
A tornado alert was issued in Litchfield County, sending people scrambling for safety.
In Massachusetts, parts of which were under severe thunderstorm warnings for parts of the afternoon, there was tree damage and a few hundred power outages.
The storms were capable of large hail and damaging wind gusts past 65 mph in western Massachusetts and Connecticut. They weakened and formed squalls in eastern Massachusetts and southern New Hampshire through the early evening.
Individual cells were racing toward the northeast at 55 mph.
It was part of a rare event happening in New England: winter weather advisories in effect for heavy snow at the same time as a severe thunderstorm watch, which was in place for Connecticut and western Massachusetts through just before 6 p.m.
Snow fell at rates of one inch per hour from Burlington, Vermont, to Berlin, New Hampshire. Several towns deployed snow removal equipment for the second time in less than a week.
Highs reached the 30s north and mid 60s south thanks to a gusty south wind. The early sunshine gave way to clouds and a few showers prior to the main cold front line of storms.
The rain didn't amount to much -- about a quarter inch was expected. The rain heads offshore tonight as lows behind it fall to the 30s, 20s up north.
Meanwhile, northern New England will see the snow showers across mountain peaks through Thursday. Snowfall amounts vary from 1-3" in lower terrain to 6-12" in highest elevations.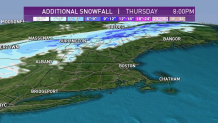 The cold front heads away from us tomorrow and behind it drier and colder air will take over. Tonight's lows drop to the 20s north and 30s south, with widespread frost possible even in southern New England. Highs will only be in the 40s with a westerly breeze tomorrow.
We stay dry for Friday as well with sunshine and highs rebounding a bit to around 60 degrees.
Another split weekend is upon us. Saturday will be the better of the two days for outdoor dining, hiking, or traveling. Highs reach the 60s with plenty of sunshine.
Sunday we have a coastal low that will bring in heavy rain, wind and raw conditions with highs in the low 50s. This storm lingers through early Monday, and slowly heads offshore. A steady warming trend is expected after that as we see highs in the low 70s by midweek next week.