Severe thunderstorms crossed southern New England Sunday night, bringing torrential rain and high winds that knocked out power for thousands of people.
An intense squall line hit the Boston area, across Massachusetts, parts of Connecticut and much of Rhode Island. At one point it prompted a tornado warning in Connecticut, though there was no immediate word on whether one had formed.
More than 35,000 customers were without power in Connecticut after midnight; another 21,000-plus lost power in Massachusetts.
See all severe weather alerts in your area here.
The storm drenched the New England Patriots' game against the Baltimore Ravens at Gillette Stadium in Foxboro, though that didn't stop wide receiver Jakobi Meyers from throwing a 24-yard touchdown pass to running back Rex Burkhead in a Patriots win.
A severe thunderstorm watch issued for the area from 7:30 p.m. Sunday through 2 a.m. Monday warned wind gusts could be up to 70 mph and the storm could bring dangerous lightning in the affected areas.
There were 13 counties in Massachusetts affected by the watch, including Worcester, Middlesex, Norfolk, Suffolk, Essex, Barnstable, Bristol, Dukes, Nantucket, Plymouth, Franklin, Hampden, and Hampshire.
In Connecticut, the watch included these three counties: Hartford, Tolland and Windham. Five counties in Rhode Island were affected: Bristol, Kent, Providence, Newport and Washington.
There was no immediate information about whether a tornado had touched down Sunday evening in Fairfield County, Connecticut. It can take a day or more to confirm.
A severe thunderstorm watch means conditions are favorable for severe thunderstorms in and close to the watch area. The National Weather Service advises people in these areas to be on the lookout for threatening weather conditions.
Severe thunderstorms can and occasionally do produce tornadoes, the NWS says.
Click here for active weather alerts in New England
The high-pressure system that produced a frosty start Sunday morning pushed off shore and was met by warmer air coming from the south. That sparked a bit of a battle in the atmosphere, as the warm air ran into the cold, producing a mixture of rain with sleet and snow mixed in the hills north.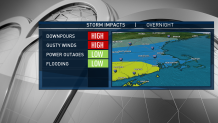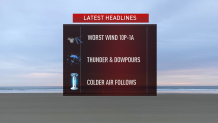 There was a wind advisory from the coast of Maine all the way through southeastern Massachusetts and back into higher terrain of Worcester County.
Meteorologist Matt Noyes had people to secure lightweight objects and be ready for some clusters of outages from the intense wind.
The temperature was expected to jump into the 50s overnight, before falling dramatically early Monday morning. 
Monday should have a good amount of sunshine, with the exception of the mountains where snow showers may continue. High temperature will be in the morning around 50 degrees tending to fall, with wind from the northwest gusting past 25 mph.
Sunday night's storm will intensify over eastern Canada, and push another cold front down into New England on Tuesday with the possibility of a few more snow showers or even a squall.
Temperatures on Tuesday should be in the 40s, but much colder in the higher elevations where a coating of snow as possible. A few snow showers may even make it to the coast Tuesday night as the coldest day of the season arrives for Wednesday.
It may be as cold as we saw during that storm just before Halloween. But this time the sun should come out on Wednesday, with temperatures only in the 30s, and wind chill factors below freezing.
A hard freeze is likely again Wednesday night, before a warm front brings in the chance for a few mixed rain or snow showers later Thursday. There's a chance for more action again next weekend, but temperatures should be on the rebound, as seen in our First Alert 10-day forecast.