That bright star is sure making it feel nicer outside — the sun is back and New England is celebrating!
Thursday and the day before we had between an inch and two inches of rain with mostly cloudy skies and gloomy views. While temperatures are in the 30s Friday and it's somewhat breezy, the weather outside is enjoyable in January standards.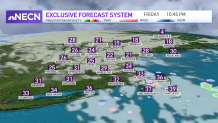 We'll keep enjoying a mix of variable clouds through the afternoon and an enhanced chance for a few flurries here and there, primarily out in Connecticut, along with western and central Massachusetts advancing eastward into the Cape as ocean-effect snow showers there.
Friday night, we'll have temperatures dropping into the 20s once again. Early morning flurries may advance into western New England but increasing sun takes over by mid-morning and through the afternoon making it a fantastic day for outdoors.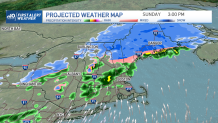 Sunday welcomes snow across the north country and some rain showers across central-southern New England. Monday looks out for a coastal low that will meander in the south coast while the north country will again welcome more accumulating snow showers. The temperature trend next week favors below average highs with temperatures in the upper 20s to low 30s from Tuesday into the following weekend.