Our warm streak has come to an end, we're now facing highs that range from the 50s along some coastal areas to the 70s inland. Connecticut will be the lucky one to see those 70s almost everywhere except in the coast.
Otherwise, it's not too bad, cloudy skies take over much of the day and showers begin to crawl in out of the southwest moving north. Connecticut will have the highest chance for those afternoon/evening showers that will keep pushing out into Cape Cod and parts of Rhode Island later.
But Boston, for example, is likely to remain mostly dry until the evening and overnight with more rain pushing north into Sunday.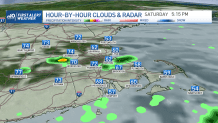 The showers Sunday will focus east now, making Connecticut be on the drier side now and eastern Massachusetts on the cloudy/gloomy/rainy side.
While it's happening throughout the day, there will be many dry periods, sporadic off and on showers. Sunday is the coolest day out of the weekend. Highs Sunday stay in the 50s along the coast with 60s predominating over the west.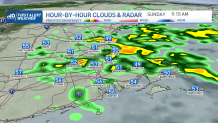 Temperatures next week stay mostly in the 60s for Boston, this is the time of the year when there's a more significant contrast out west into parts of Conn. and western Mass.
The rain will be playing the main role Monday, while showers likely make their way out through Tuesday offering dry afternoons Tuesday through Friday. Our following weekend will feature the chance for showers again.