Snow, and slick roads greeted commuters Tuesday. By the morning commute, a few inches of snow will likely have fallen, and the snow will continue to fall throughout the day.
Many school superintendents opted to cancel classes Tuesday — there were widespread school closures. Courts in Massachusetts were opening late, at 10:30 a.m., though ones in Worcester, Berkshire, Franklin, Hampden and Hampshire counties were closed all day.
Snowfall Totals in New England
A 2- to 4-inch band of snowfall is likely in and around Boston. To the south and east of the city, we can expect 1 to 3 inches, with lowest amounts for the Cape and Islands. MetroWest can expect 4 to 6 inches, with as much as 6 to 8 inches in Worcester County in elevated spots.
Winter Weather to Linger Through Tuesday
By mid to late afternoon, snow will begin to slow down, and even mix with and change to rain and sleet near the coast. With a higher sun angle and temperatures in the middle 30s, the evening commute home will be easier.
Tuesday night, any lingering snow tapers off, and skies slowly clear. Icy spots are possible, with lows in the upper 20s.
School Closings, Cancellations and Remote Learning
Hundreds of school districts in New England have canceled classes, delayed them or shifted to remote learning. An updated list is here.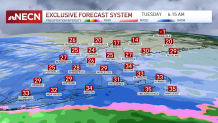 Roadways Impacted by Winter Weather
Crews have been working overnight and into the morning to treat and clear the roads, as the brunt of the winter storm comes during the morning commute.
Snowfall Totals in New England
Several inches of snow had already fallen in some communities by late Monday night, like in Stafford Springs, Connecticut, where 2.8 inches of snow was on the ground as of 11:15 p.m. By Tuesday morning, totals in some communities topped 8 inches. Some areas, like Boston, only got an inch or so by the morning.
More Storms Possible Late Week
Wednesday is partly cloudy and cool. Highs will be in the lower 40s. For Thursday, expect very mild conditions, and the chance for afternoon rain showers. Highs should be near 50.
On Friday, lingering morning rain ends. Then, snow could begin late in the evening. Highs will be in the upper 30s. We're watching Saturday for snow, or a mix of snow and ice. Highs will be in the middle 30s. Sunday could see lingering snow flurries, or sleet, with highs near 40 degrees.