Our dreary weather pattern continues tonight and for tomorrow, and on the bright side we finally see some wintry precipitation for winter lovers! Light snow is expected around Boston Friday afternoon.
Dropping temps and a freeze tonight
Temperatures begin to fall as we see a northeasterly breeze overnight tonight. Any residual moisture will freeze in place on untreated surfaces from drizzle or fog in northern New England. Then this freeze creeps southward, as far as the Merrimack Valley in isolated spots tomorrow morning. And in the Worcester Hills, or in the Berkshires. Boston remains above freezing tonight and for tomorrow so we are not concerned with icy roads. However, we sill see some snowy roads by tomorrow.
Wintry mix expected across New England Friday
Most of southern and central New England is waking up to a mix of wintry weather. Steady rain in southern Connecticut will remain as rain through the day. Higher elevations see more mixing to some snow as temps fall to the mid 30s. So this means snowfall ratios are more 6:1 versus the usual 10:1. And the snow will be so water-loaded and sloppy that it compacts and melts quickly. So even though forecast models are projecting several inches of snow, this will translate to coatings to 2" on the ground through the day. And speaking of the ground, most roads remain fine just wet.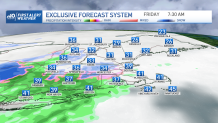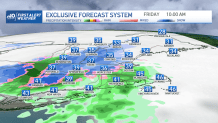 The snow falls in Boston from late morning to afternoon and through early evening. Temps stay in the upper 30s and so well-traveled roads should be wet but not snowy. And the snow accumulation will be mostly on grassy surfaces. Coating-1" is anticipated in Boston, to 128. Worcester to Manchester will see around 2" of snow through the day. Less south, and less north of that area.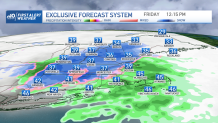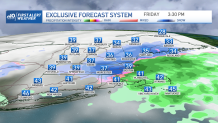 Seasonal temps and some sun for the weekend
Temps stay winter like and where we should be for this time of the year, highs in the upper 30s and low 40s. Sun emerges Saturday, but really comes out in full force Sunday. Some mountain snow showers are likely for Saturday afternoon.
10-Day Outlook
We stay steady with temps with no big cool downs and no big warm ups. Just winter to be continued. A couple system are nearby that are of interest. One is Monday, though it has trended farther south. The Wednesday offshore storm has also trended farther south. Something is brewing at the end of this week too that we are watching. A storm that has shown up on our exclusive NBCU forecast system, with a 40-50% chance of precipitation for New England around Friday and Saturday. Stay tuned.