The weather will slide downhill quickly today.
That doesn't buy us a lot of time to warm things up after a chilly night in the 30s. As rain moves in, some spots may see a brief period of sleet or wet snow (NO accumulation) late this morning and early this afternoon.
The rest of the day is spent in the general showers, with raw winds from the east and temps only making it to the low 40s. With milder air trying to weasel in later tonight, we'll see the numbers hold into the morning. That same milder air may also instigate a few rumbles of thunder – or plain downpours - after midnight.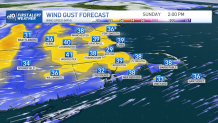 We'll wake to sunshine on Sunday morning. As the day progresses, winds will increase from the northwest as colder air tries to move in. That won't stop us from making the mid-50s by afternoon, however.
Our next concern revolves around a storm forming on Tuesday. Right now, it appears that most of the storm will remain offshore of Nantucket, while leaving us in the lighter precipitation.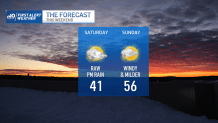 That spells light rain, with the possibility of some wet snow in the elevated terrain of Mass and NH. We'll keep a close eye on the storm's evolution and track in the coming days.