The large dome of high pressure responsible for our dry and pleasant start to the week is shifting to a position east of New England Tuesday, but the onshore wind flow continues – the clockwise flow of air around the high pressure center is delivering a southeast wind to New England, and this keeps coasts cooler than the interior for a second consecutive day.
Sunshine mixes with only a few decorative clouds at times, meaning not only are sunglasses a good idea, but sunblock is, too. We are now within a month of our strongest sun angle of the year at our Summer Solstice, and this means our UV Index is very high, bordering on extreme, so sunburns are likely with exposure.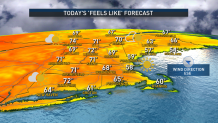 The good news – and something I mentioned in my morning memo on NBC10 Boston Today from 4 to 7 a.m. – is we appear to have turned the corner both regarding pollen count and brush fire danger, with ocean water temperatures soon to follow. That's not to say the pollen count isn't high – it is – but considering we had two weeks of so many kinds of pollen with no rain, then washed it away with this past weekend's rain, the flow of new pollen has slowed and more showers are en route to most areas Wednesday evening, meaning it's highly unlikely we'll return to the pollen levels we registered last week.
That said, pine pollen (the yellow dust) has yet to emerge, so you'll have one more visible and impactful burst to get through. Brush fire danger also can still climb from its current moderate classification, but with leaves now out on trees and bushes, this casts shade on the ground, making the drying process slower and less extreme, so a return to the very high fire danger of last week is also far less likely.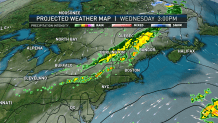 As for ocean temperatures, they are still chilly with most spots in the middle 50s, but the next four weeks are historically a time we see rises of between five and nine degrees in ocean water temperature, which will be noticeable. The Great White Sharks seem to already be sensing a change, as we received the first report of the season of a Great White feeding on a seal north of Provincetown this past weekend. A shifting wind Wednesday to blow from the south will mean 60s near south-facing coasts, but the rest of New England rises into the 70s with some pushing 80 ahead of an approaching cold front, set to deliver showers and embedded downpours to northern New England Wednesday afternoon and central to southern New England Wednesday evening.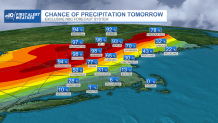 Behind the cold front, New England resets to cool and dry air for the end of the week, much like we started the week, with inland communities nearing and exceeding 70 in spots while the coast stays cooler. Memorial Day Weekend weather hinges on the location and evolution of a storm over the southeast U.S. and Mid-Atlantic. As long as the weather sticks to our script – high pressure holding firm over the Great Lakes and extending east into New England – the showers will stay south of New England for most if not all of the extended weekend.
A separate shower is possible in spots Saturday afternoon from an unrelated disturbance out of Canada, but the deeper moisture with showers would remain south through Sunday and perhaps Monday, as well, which is what you see reflected in our exclusive First Alert 10-day forecast. Eventually, some of that moisture may deliver showers next Tuesday or Wednesday. A change to the development, speed or track of the storm would change this forecast, so we'll keep you posted, but this is our best estimate.