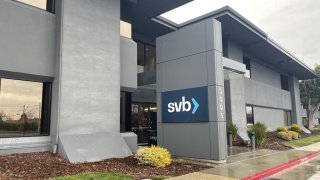 The drama surrounding Friday's failure of Silicon Valley Bank continued throughout the weekend and into Monday as regulators stepped in to prevent the collapse of the tech bank from spiraling into a crisis hitting the majority of regional banks.
The Federal Deposit Insurance Corp. was holding an auction for the Santa Clara institution's assets in an effort to quickly get passed the bank's collapse and and prevent it from affecting other banks. Meanwhile, there was plenty of debate on Capitol Hill, Silicon Valley and points in between whether, how and who regulators should bail out of the situation.
California regulators declared Silicon Valley Bank insolvent Friday morning and put it into receivership with the FDIC. The move followed a sharp sell-off of parent company SVB Financial Group's stock (Nasdaq: SIVB) Thursday. Investors dumped the stock after CEO Greg Becker announced late Wednesday that SVB had lost nearly $2 billion selling assets to try to shore up its balance sheet and planned to sell $2.25 billion worth of stock to raise more cash (SVB later aborted that plan).
Lawmakers asking for a Massachusetts-focused briefing from the FDIC
U.S. Rep. Jake Auchincloss, a Democratic congressman from Newton, is requesting a Massachusetts-focused briefing from the Federal Deposit Insurance Corp. on Silicon Valley Bank. He said he put in a request with the Treasury Department for a briefing aiming for before branches reopen on Monday morning, he added he's coordinating with other members of the state's congressional delegation and Gov. Maura Healey. Axios has more.
Click here for more of the latest developments from Boston Business Journal
Copyright Boston Business Journal