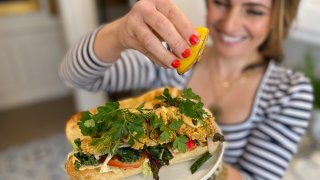 **Serves 2**
INGREDIENTS:
For the Oysters
12 large fresh oysters, shucked
1 cup buttermilk
2 TBS hot sauce, Melinda's is great
1 cup all purpose flour
1 cup cornmeal, medium grind
1 TBS cajun spice blend
4 cups canola oil for frying
For the Remoulade
1 cup good mayonnaise, Hellmann's is always great
¼ cup spicy mustard
1 clove garlic, crushed and minced
2 tsp prepared horseradish
1 tsp Cajun spice blend
1 TBS hot sauce, more or less to taste
2 TBS minced dill pickle or capers
For the Pickled Kale & Veggie Mix
1 cup apple cider vinegar
2 TBS granulated sugar
1 TBS kosher salt
3 cups kale, julienned
½ cup fenned, thinly sliced
5 radishes, thinly slices
For the Fixin's
2 small 6" long baguettes
Remoulade
1 cup iceberg lettuce, shredded
1 tomato, thinly sliced
Pickled Kale and Veggie Mix
Fried Oysters
Fresh herbs, like dill and parsley for garnish
Lemon half, for garnish
More Recipes
PREPARATION:
For the Oysters
In a small bowl, combine the buttermilk and hot sauce. Marinate the shucked oysters in the mixture for 30 minutes in the refrigerator. 
Meanwhile, preheat the frying oil in a shallow, medium saucepan to 350*
In a medium mixing bowl, combine flour, cornmeal, and Cajun spice blend.
Dredge the oysters through the flour mixture.  Shake off any extra flour and place in hot oil.
With a slotted spoon, carefully move oysters a little to be sure they aren't sticking to the bottom. Flip once, frying for 1-2 minutes a side or until the color is golden brown.
Remove from the hot oil and place on a paper towel-lined plate to collect extra oil.
For the Remoulade
In a medium bowl, combine all ingredients. Taste. Adjust seasoning by adding more salt, hot sauce or lemon juice. Keep chilled until ready to serve.
For the Pickled Kale & Veggie Mix
In a medium bowl, dissolve sugar and salt in apple cider vinegar. 
Submerge veggies, cover, and refrigerate for at least 30 minutes and up to 2 days. 
To assemble
Slice the baguette lengthwise, brush with mayonnaise, and grill.
Place a generous spread of Remoulade down on the base. Top with shredded iceberg and sliced tomatoes.  Add pickled vegetables and fried oysters.  Top oysters with more remoulade and dress with pinches of fresh herbs like dill and parsley.  Blitz with lemon juice and serve immediately.  
Watch Below to See Anna Rossi and Chef Nia Grace a Variety of Kale-Inspired Dishes That Will Make Your Mouth Water!