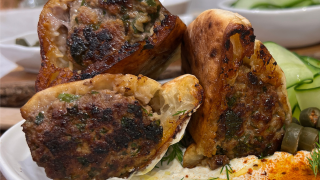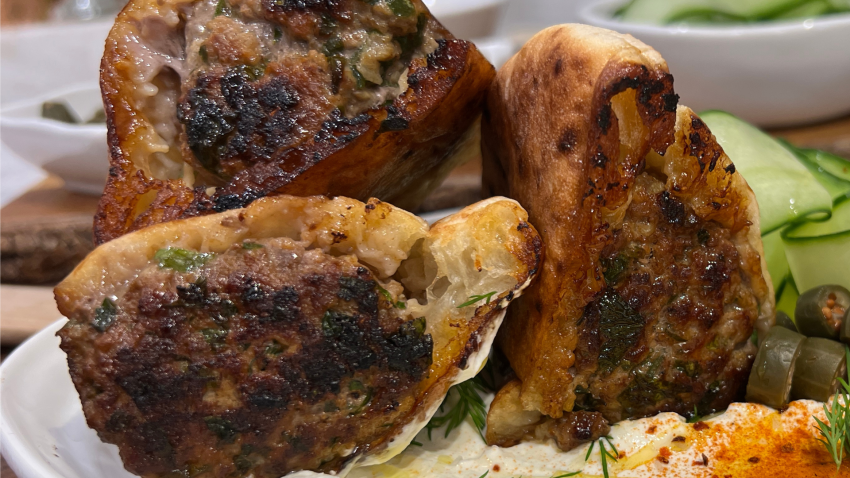 **Serves 4**
INGREDIENTS:
1 lb ground lamb meat
2oz bacon, finely chopped or pureed in a food processor (optional, but delicious)
1 small onion, grated
3 cloves garlic, grated
½ cup parsley, chopped and lightly packed
½ tsp cumin
½ tsp coriander
½ tsp paprika
1 tsp 5 spice
Kosher salt & red pepper to taste
2 Pita rounds, choose ones that are a little breadier and fluffy
For the dip:
½ cup labneh or Greek Yogurt
2 TBS extra virgin olive oil
Toppings like cucumber, sliced tomato, caper berries, olives and fresh dill
Salt & pepper to taste
More Recipes
PREPARATION:
In a large mixing bowl, mix the ground lamb, bacon (optional), onion, garlic, parsley, cumin, coriander, paprika, 5 spice, salt, and pepper. Begin by mixing with a fork to break up the density of the ground meat. Then don't be shy and use your hands. Don't overwork/over mix the meat but attempt to distribute the seasonings evenly.
Slice your pita rounds in half and carefully break open the pocket. Divide the meat mixture into 4 equal parts. Carefully pack ¼ of the mixture into each of the 4 halves.
Slice the packed pita again in half to create a triangle quarter. Smooth the 2 meaty edges with your finger so the meat is flush with the fluffy pita bread.
Preheat a cast iron skillet on medium heat. Add 1-2 TBS of olive oil and place the meat side down into the skillet. Sear for 3-4 minutes. Flip to sear the 2nd meaty surface. Cook until the internal temperature reaches 160*. If the meat begins to brown too quickly, lower the temperature slightly.
On a platter, arrange the labneh or Greek yogurt for dipping along with fresh and pickled fixings.
Watch below to make this recipe step-by-step with Anna Rossi!