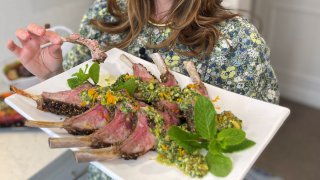 INGREDIENTS:
1/2 Cup pistachios, roasted and lightly salted
2 Cloves garlic
1/2 Cup fresh mint
1/4 Cup fresh parsley
1/4 Cup extra virgin olive oil
1/4 Cup fresh lemon juice
Zest from 1/2 an orange (optional)
Salt and pepper
PREPARATION:
1. Combine pistachios, garlic, mint, parsley, olive oil, lemon juice, and orange zest and juice in a food processor. Pulse until the ingredients are coarsely chopped. Taste and adjust. Season with salt, pepper and lemon juice.
2. To serve, generously pour gremolata on top of the individual lamb and finish with a little extra orange zest and sprigs of mint for beauty.
3. Store in an airtight container up to 1 week.
Anna's Tip: Try this with chicken, shrimp and white fish. It's delicious!
Cook the Chef's Pantry (All Our Recipes)
Watch below to make this recipe step-by-step with Anna Rossi!