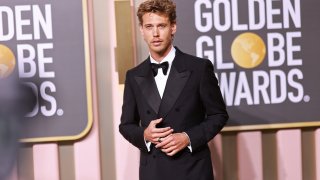 Austin Butler's burning love for his "Elvis" accent might be extinguished at long last.
The actor, whose lingering Elvis Presley accent has sent the internet ablaze with questions, has finally dropped the vocal mannerisms of the late musician—at least for now.
According to "Dune" actor Dave Bautista, Butler does not sound like Elvis in the upcoming sequel, "Dune 2," which is expected to be released in the fall. 
"I don't know who this guy was, but it's not Austin Butler," Bautista told USA Today. "It's not Elvis. His voice is different, his look is different. Everything about his demeanor is terrifying."
He added of Butler, who will play his younger brother Feyd-Rautha onscreen, "He's just the sweetest guy you'll ever meet."
Three years ago, Butler transformed into the King of Rock 'n' Roll while filming Baz Luhrmann's "Elvis," a role that earned him a Best Actor nomination at the 2023 Oscars. But even after filming wrapped—and months after the movie hit theaters in June 2022 — fans couldn't help but notice how his sultry Southern accent lingered on.
After his speech at the Golden Globes raised eyebrows, the 31-year-old addressed the chatter backstage in the press room. "I don't think I sound like him still, but I guess I must, because I hear it all the time," he said. "I often liken it to when somebody lives in another country for a long time. I had three years where that was my only focus, so I'm sure there's pieces of him in my DNA and I will always be linked to him."
He went on to defend his apparent accent to the Los Angeles Times later that month, saying that "certain muscular habits" must still "pop up" after embodying the legend.
"If I was trying to sound like Elvis, I would sound very different right now," he shared. "I think it's sort of amusing to me how much people want to focus on this one thing."
According to his own vocal coach, the mannerisms could last indefinitely.
"What you saw in that Golden Globes speech, that's him," Irene Bartlett told ABC's "Gold Coast" in January. "It's genuine, it's not put on."
While Butler may have shaken those traits in order to play his character in "Dune 2," fans with suspicious minds will be keeping a close eye—and ear—on the upcoming Academy Awards on March 12.
Copyright E! Online