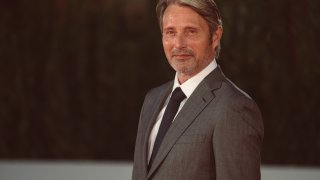 Wands at the ready, folks, because Warner Bros. has found its new Grindelwald.
The studio confirmed to E! News that actor Mads Mikkelsen will replace Johnny Depp in "Fantastic Beasts 3."
Mikkelsen is all too familiar with big blockbuster franchises, as he's already appeared in "Rogue One: A Star Wars Story," "Doctor Strange" and "Casino Royale." As for his more spooky roles, the Danish actor and dancer portrayed Dr. Hannibal Lecter in "Hannibal" and Lucas in "The Hunt."
"Fantastic Beasts and Where to Find Them 3" is filming at Studios Leavesden near London. Co-stars Eddie Redmayne, Ezra Miller, Jude Law and Katherine Waterston are returning for the "all-new, globe-trotting adventure," according to Warner Bros.
As for Depp, he was forced to resign as grand wizard Grindelwald after he lost a recent libel case in court. The 57-year-old actor sued The Sun for calling him a "wife beater" in a story that referenced Amber Heard's assault allegations, but Depp lost the case this month.
He announced his resignation from the Harry Potter prequel on Instagram four days later. Depp wrote, "I have been asked to resign by Warner Bros. from my role as Grindelwald in Fantastic Beasts and I have respected and agreed to that request," as well as, "I'd like to thank everybody who has gifted me with their support and loyalty."
Depp will be fully paid for the project. His pay-or-play contract means he must receive his salary even if he is recast, according to The Hollywood Reporter.
It's not the first scandal to plague the Harry Potter series this year. Series author J.K. Rowling faced an avalanche of backlash after posting several transphobic comments on social media. Original stars, including Daniel Radcliffe and Emma Watson, criticized the writer and defended the transgender community.
Redmayne also addressed the controversy, telling Variety in June, "As someone who has worked with both J.K. Rowling and members of the trans community, I wanted to make it absolutely clear where I stand. I disagree with Jo's comments. Trans women are women, trans men are men and non-binary identities are valid."
Rowling is back as a producer for the third film, which is again directed by David Yates.
"Fantastic Beasts 3" is set to hit theaters on July 15, 2022.
Copyright E! Online