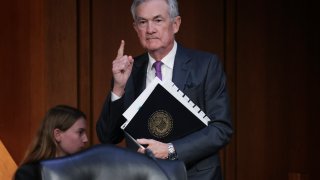 This report is from today's CNBC Daily Open, our new, international markets newsletter. CNBC Daily Open brings investors up to speed on everything they need to know, no matter where they are. Like what you see? You can subscribe here.
Powell has spoken: Higher rates and faster hikes are on the table.
What you need to know today
The bottom line
There's no need to speculate anymore — in the first of his Congressional hearings, Powell said outright that the Fed might raise interest rates higher and faster than officials had projected last year. His exact words: "The latest economic data have come in stronger than expected, which suggests that the ultimate level of interest rates is likely to be higher than previously anticipated … we would be prepared to increase the pace of rate hikes." This means that rates could not only go beyond 5.25%, but the Fed could also return to 50-basis-point hikes.
Markets didn't like it. The Dow Jones Industrial Average shed 1.72%, the S&P 500 dropped 1.53% and the Nasdaq Composite lost 1.25%. There are some important statistics here: the Dow is now 0.9% below what it was at the start of the year, and the S&P, while still up 3.8%, closed below the psychological 4,000 level, suggesting that investors could get spooked further. Indeed, bank shares, which tend to be a bellwether for investors' sentiment about the economy, led losses. Wells Fargo dropped 4.68% while Bank of America, Goldman Sachs and JPMorgan Chase lost about 3% each. U.S. Treasury yields jumped even more than they had in the past week. The yield on four notes — the 3-month, 6-month, 1-year and 2-year — breached 5%.
But not everyone is convinced that monetary policy will tighten faster. "I do not think the Fed goes 50 bps at any of the remaining rate hike meetings at this point after already slowing the pace and will continue on with 25 bps until it finally stops," wrote Peter Boockvar of Bleakley Financial Group — though he admitted he could only come to this calm conclusion after taking an Advil. While I'm not recommending everyone have an Advil, it's good sense to take a breather and wait until the February jobs report is released on Friday before making any snap decisions.
Subscribe here to get this report sent directly to your inbox each morning before markets open.
Copyright CNBCs - CNBC