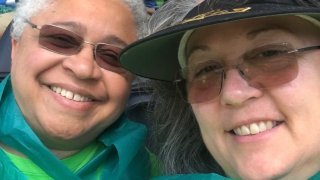 When the coronavirus pandemic cut her earnings in half, 61-year-old Glenda West was worried she wouldn't meet her retirement savings goals.
Yet after some advice from personal finance expert and best-selling author Suze Orman, West was able to revamp her strategy and get back on track.
"She made me realize that I was missing a real obvious opportunity," recalled West, who owns a construction company with her wife.
Orma and West met virtually during last July's "Invest in You: Ready. Set. Grow Your Future – A CNBC & Acorns Town Hall Special."
At the time, the couple's business had seen earnings fall 50%. While they had been putting 10% of every paycheck towards their retirement savings, they had to stop. West was concerned they wouldn't be able to reach their goal of $2 million by retirement.
"The key here is: What are you invested in — not how much money you have, but where is your money invested?" responded Orman, author of "The Ultimate Retirement Guide for 50+" and host of the podcast, "Women and Money."
The answer: largely in traditional fixed annuity accounts, several Roth individual retirement accounts and savings accounts.
The two had a follow-up conversation by telephone, and West said that gave her the confidence to make some changes.
More from Invest in You:
Women lag behind men in retirement savings. Covid has made it worse
5 strategies to help you get back into the workforce after a career break
The big lesson Suze Orman learned from her recent health scare
"You are never powerful in life until you are powerful over your own money — how you think about it, feel about it, and invest it," Orman recently told CNBC.
The real obvious change was to use a high-yield savings account, West said.
She also went back to investing, something she had done in the past but stopped after the dotcom bubble burst in 2000. These days, she's actively investing in stocks and exchange traded funds, doing research and following financial experts.
"I really had played it safe by trying to lay a foundation of annuities," West said. Annuities provide guaranteed payments to the annuitant once they reach retirement.
"I'm looking to be a little more aggressive and do something a little different."
In about five years, West will be able to take money from her first annuity. Orman told her to consider taking the lump sum and investing it herself. West has yet to decide.
"I have five years to take the lessons learned from Suze, apply them and do a lot of things myself and see how I feel," she said.
SIGN UP: Money 101 is an 8-week learning course to financial freedom, delivered weekly to your inbox.
CHECK OUT: 'Shark Tank' investor Barbara Corcoran recalls her 'worst missed investment': 'If only I knew what I know now!' via Grow with Acorns+CNBC.
Disclosure: NBCUniversal and Comcast Ventures are investors in Acorns.
Copyright CNBCs - CNBC